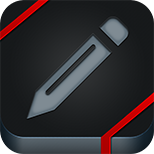 Available in the App Store
★★★★★★★★★★★★★★★★★★★★★★★★★★★★★★
★ Listed under best free apps at appchronicles.com ★
★ more than 50,000 downloads! ★
★ Ranked first place in two countries, top 10 in 18 countries (in entertainment) ★
★ featured on http://appadvice.com/ ★ 
Lead Sketch is an app that enables you to enjoy the feeling of sketching with lead pencils. Whether you are a beginner or a master of art, your drawings will have a unique artistic look and feel. Choose from a wide range of backgrounds and borders to enhance your drawings even further.
This little video shows me drawing some stuff in Lead Sketch. Lead Sketch is a drawing app for iPhone and iPad. The paintings created with it have an unique style that resembles painting with lead pencils. I find it very relaxing to listen to my favorite tunes and just paint away.
I just added a new feature: You can choose from a wide range of backgrounds to give your paintings an even more organic feeling. You can also choose from different overlays like vignettes or borders, to give your painting a nice dramatic touch.
★★★★★ "So utterly cool - Fantastic app, I have lots of sketch apps but this one gives such beautiful results. Auto shades along lines to give a dynamism to even basic line drawings."
★★★★★ "amazing - really amazing, helpful app for interior designers and architects!"
★★★★★ "Pretty cool - I bought it because I waned to learn to draw but I didn't think that it would be that easy on my iPod touch with such a small screen but I was amazed"
★★★★★ "Very good! - Yes,of course it is.wonderful!"
★★★★★ "Awesome - I love it :3"
★★★★★ "Awesome - Great app! Im using this to make a logo for my little project!"
I'm not much of a painter my self. But I am very curious, what you can do with it.
Edit: While developing Lead Sketch, my drawing skills have improved ;o)
Also take a look at the new Screenshots.