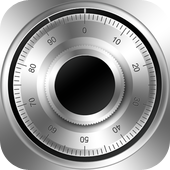 Available in the App Store
★★★★★ 

You have been set up. The police is hunting you. The evidence that can redeem your innocence is just a few inches of steel away. easy enough? 
Are you the master of locks? The one with the magic fingers and the best ears? Can you hear, what makes the mechanics inside this safe tick? 
Crack That Vault is an entertaining game, that resembles the art of safe cracking. challenge your friends via game center, earn achievements ... Are you up to the task?
It might not be as easy as you think! 
★★★★★
Available in the App Store